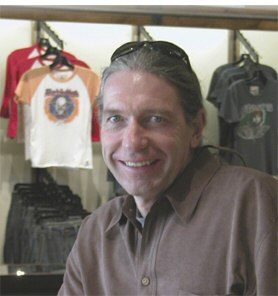 Horst Schrader came to the United States from Germany in 1987 on an extended vacation. The vacation turned into a cross-country trip, which was unexpectedly interrupted when his motorcycle broke down near Santa Fe. During his serendipitous detour he befriended a Native American jeweler from whom he learned the fundamentals of silver smithing. He quickly discovered that he could combine his life-long interest in hand-crafts and engineering to create in a new medium.
Shortly, thereafter, Horst met a prominent Santa Fe jeweler, David Dear, who offered Horst a chance to manage his silver and gold jewelry and belt buckle production line. Horst refined his practical knowledge of the art. Through his experience there, while aspiring to be recognized for his own style and quality.
The lure of adventure and opportunity drew Horst to the big city of Los Angeles in 1990 where he connected with Scott Wyane Emerick the owner of the prominent boots, belts and buckle shop, Falconhead. Horst worked for Scott in sales and did custom silver and gold work while further refining his own belt-buckle designs and production line.
Eventually, Horst returned to Santa Fe where he has lived since 1993. Shortly after returning, Doug Magnus represented Horst as part of the Heartline collection. After almost a decade of Doug's representation, Horst went solo and has been building his line and independent reputation ever since. Today Horst's sterling silver, gold and stone creations are sold in some of the finest retail business from coast to coast.
Horst creates in silver and gold and has recently integrated semi-precious stone into his buckles and designs. He is most excited about his newest line, which Horst christened, "SynStoneTM". His work always begins with the highest quality materials suitable for the application to insure durability and appearance and to give the longest lasting quality and value.
Horst's designs and quality are second to none. He is best known for his superior finishing and consistent quality. Buckle engineering is his specialty, which makes every piece an enduring and functioning object of jewelry that is uniquely beautiful, yet practical enough for everyday.